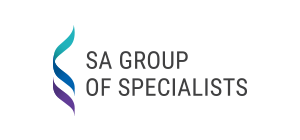 Suite 4, Ground Floor

Monday to Friday, 8.30am – 5pm
SA Group of Specialists offers over 35 high-quality specialists across a range of medical fields, supported by allied health practitioners and nurses.
Our network of qualified specialists includes gastroenterologists, general and upper GI surgeons, sleep and respiratory physicians and neurologists, as well as a range of visiting specialties.
As part of AMOS, we also have bariatric surgeons, who are supported by dietitians, psychologists, GPs with an interest in weight management and exercise physiologists.
SA Group of Specialists is home to IBD SA, which offers comprehensive Crohn's and Colitis Care. Offering a multidisciplinary approach, the team consists of a range of health professionals dedicated to the management of IBD.
We remain committed to providing a high quality, comprehensive health service across a range of medical specialties.
For more information visit www.sagroup.net.au.